Cerra Alkaline Anti-oxidant Hydrogen Water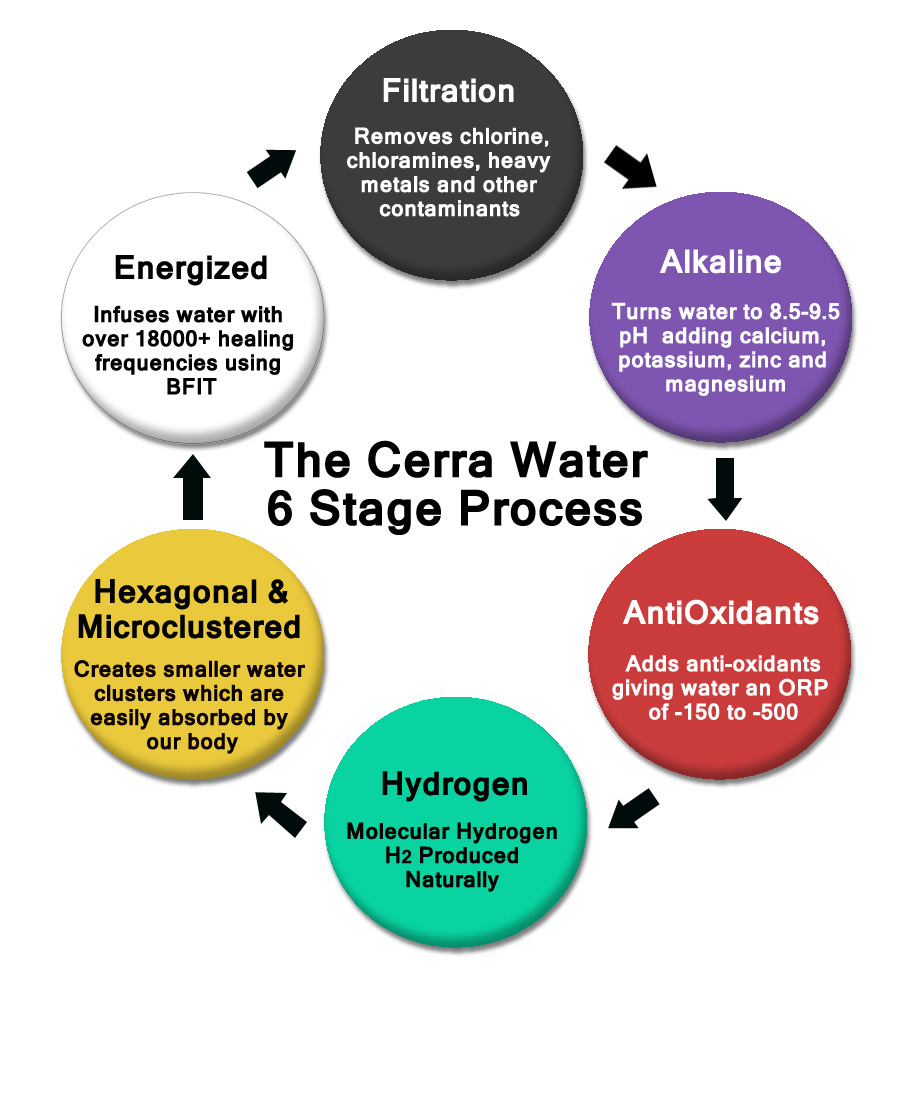 Our bodies are naturally alkaline but unfortunately in today's world we are constantly put into an acidic state through pollution, the foods we eat, and stress. It makes sense the easiest way to change this is through drinking alkaline anti-oxidant hydrogen water like Cerra Water®.
Cerra Water® is much more than just alkaline water, it has addition of beneficial minerals, it carries many more health benefits from removing chlorine, chloramines and other contaminants, it adds vital anti-oxidants, it provides micro-clustering of the water so our bodies can easily absorb it, it adds naturally produced molecular hydrogen H2 and finally each Cerra Cartridge is infused with over 18000+ beneficial healing frequencies using BFIT ( Biometric Frequency Infusion Technology ). This 6 stage process creates great tasting healthy water unlike any other.
We want to provide the most natural and best quality water to improve your health and that starts by only using the best quality components. In creating our Cerra Water products we only use the highest quality materials including German TUV certified plastic and WQA certified filter ingredients. This leaves your assured that no toxins or contaminants will leach from the plastic or filter ingredients into your water.
Cerra Water® uses a very natural process of conditioning the water as compared to the various electrical ionizers on the market including hydrogen machine types which create harmful EMF's (electromagnetic fields).
Cerra Water® is for the person looking for the most natural and best quality alkaline anti-oxidant, micro clustered, hydrogen water available and does not want to compromise on performance, quality or safety. Our human bodies are composed of mainly water.
Cerra Water® provides the best composition of water for super hydration.
If you are looking for the best natural water ionizer around you have found it!
| | |
| --- | --- |
| | |
Why Cerra Water®?

Based around high quality and performance the Cerra Pitcher was the first and original alkaline anti-oxidant water pitcher brought to North America. Only high quality materials are used to maximize the health benefits Cerra Water can deliver to you unlike any other. Only Cerra Water carries international safety certifications!

Cerra Pitcher Bundle

Check out the Cerra Pitcher bundle at an amazing new lower price. It comes with everything you and your entire family need to start drinking healthy alkaline anti-oxidant water to improve your health. With each Cerra Pitcher you get one 3.3 liter pitcher, one Cerra Water filter, and one bottle of pH drops..

Comparisons

With all the alkaline water ionizer, alkaline pitchers, and other types of alkaline water out there it can be confusing to understand how they are different. See why Cerra Water is the best beating out the rest delivering the best quality, benefits and value.
Kareen Zebroff: TV-Host. taught Yoga on TV for over 16 years
Author of 10 Best Sellers Yoga books, Certified Nutritionist, International Speaker

What Are People Saying About Cerra Water®?

This is to certify that I am thrilled with my new and highly-effective CERRA WATER® pitcher. Here's why.
It's as easy as running the water into it, and as quick as a minute for the filter to do its work.
I not only love the taste of the water, but have also noticed more energy than ever before.

As my over-seventy husband and I were already leading a healthy life-style, we were most surprised by how much more energy we got within days of drinking the Cerra water.

This water is the best anti-aging factor I can possibly imagine. We both get compliments on our newly moist skin. We are more mentally alert than ever, and less forgetful. We focus on a lost fat and stabilized our weight, yet still manage the daily glass of wine and 2 ribs of chocolate!

As a European I especially appreciate the reliable German (and other) certification for quality and, above all, safety, as I've learned to beware of cheap imitations.

Sincerely, Kareen Zebroff

The more "alive" and beneficial your water is, the more alive you will be.